Every rental property needs an upgrade (or two) at some point. Whether it's a new-to-you property or a Detroit rental that's been in your portfolio for a while, keeping your rentals current and competitive requires smart updates from time to time.
However, the wrong upgrades can work against you! Spending too much on renovations or adding amenities that renters don't want or need can be expensive mistakes. It can be tough to recover from the costs of upgrades that never pay off.
How can real estate investors know the right renovations to generate more income and attract quality renters? A best-in-class Detroit property manager can help! The Own It Detroit team has the expertise you need when it's time to consider the best rental property upgrades. Here are a few updates that boost your long-term income!
Work-From-Home Features
It might not go away any time soon. Working from home became a significant shift in how many Detroit renters worked in 2020, and that trend could continue indefinitely into the future.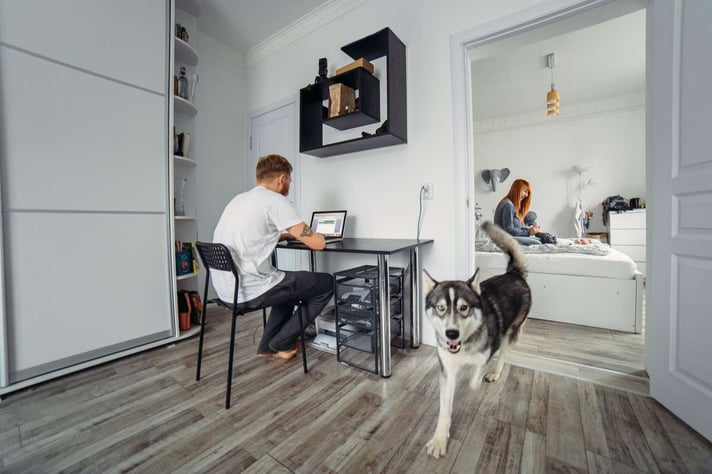 Is your rental home work-from-home friendly? Small, inexpensive updates can help attract more renters who need space to live and work while being your next resident. What makes remote working from home a better experience for renters? Consider upgrades like:
Wall outlets with USB charging ports
Smart home features to help renters feel more secure at home with office equipment
A video wifi doorbell to alert renters when deliveries arrive
Options for setting up a home network with strong wifi signals
Advertising an extra room or private nook in your Detroit property as home office space can help prospective renters see the potential for a home office when searching for their next rental home. Plus, these types of upgrades can also justify a reasonable rental rate increase to offset costs, generate more income, and improve your ROI!
Pet-Friendly Spaces
Whether you own a single-family home or a condo for rent, people spend more time at home these days than in recent years. Many renters enjoy time at home better with a pet!
If you've never considered allowing pets before, it's an excellent way to upgrade your Detroit property—and the quality of your renters. Before accepting pets, review your property and look for ways to upgrade it to a more pet-friendly home, including:
As an expert Detroit property manager, we believe pets can be an excellent addition to your renter criteria. We'll help you make the property and lease updates to accommodate renters with pets and make sure it's a worthwhile way for you to increase your cash flow.
Energy-Efficient Appliances
New appliances provide an instant boost to the quality of your rental property. Installing new appliances also benefit your taxes when it's time to work through business deductions.
Renters love rental homes with new, energy-efficient appliances. A new dishwasher and refrigerator look nice, are clean, and help residents reduce energy bills. If you provide in-unit washers and dryers, new appliances also help reduce utility expenses while impressing your Detroit residents!
When replacing outdated appliances, be sure to advertise new appliances in the rental listing and adjust the rent to offset some of the expense of the new machines.

Refresh Paint Colors
Outdated paint colors will encourage potential renters to scroll by your rental listing. Today's renters look for neutral colors that brighten spaces and allow them to picture their personal décor style in your rental property. If your rental's walls showcase trendy colors that are no longer in style, it's time to update your paint color choices.
Don't stop with the inside! An exterior paint refresh can update your property's curb appeal and catch the eye of your next renter. Let a Detroit property manager handle a full-property paint job for you. Our team has the best network of contractors to update your rentals to attract better renters—professionally, quickly, and affordably.
The Best Upgrade is Best-In-Class Property Management
The best way to upgrade your real estate investor experience and retain more renters is to choose a best-in-class Detroit property manager! The right property management company understands the rental market and knows what renters look for in a home. We recommend the best rental property upgrades to maximize investor ROIs and build tremendous cash flow.
When you own multiple investment properties, you need a property manager who can help coordinate quality renovations and minimize downtime for your properties. Own It Detroit is not only the right choice for investors looking for turnkey investments—but we're also your smart bet for Detroit property management (whether you have one property or 100).
Every property in your real estate portfolio should deliver the best amenities in the market! Let us help keep your properties competitive with the best rental property upgrades. Contact us to speak with one of our property management experts!